PRESS
"a landmark film" – Martha Ackmann, The New York Times
"fantastic" – John Walters, Sports Illustrated
"I'm not a movie critic, nor do I play on TV, but this [is] an important and powerful film… this film would inspire any woman to stand up for herself and be the woman she dreams of…" – Robin Roberts, ESPN
"a remarkable film…the triumph of the film is that it is upbeat and funny, never preachy, always entertaining… it made me grateful that my daughters, now 13 and 10, can take advantage of opportunities that girls and women who came before them in every field of endeavor have won and defended…" – Bill Littlefield, NPR's "Only A Game"
"If you are a boy or man, and think Title IX was unnecessary, check out this film. If you are a girl or woman, and believe enforcing Title IX was a polite tea party, see this movie…" – Jay Weiner, The Minneapolis Star Tribune
"powerful" – Barbara Huebner, The Boston Globe
"By turns hilarious, poignant and duly serious… a well-made portrait of a woman whose experience serves to remind us that it isn't necessarily just making the boat go fast (and Chris Ernst certainly did her share of that), but that rocking it to keep everybody awake is one of the truer definitions of 'heroism.' – Oli Rosenbladt, row2k.com
"You are a *&@#$ genius. I can't wait for my 10 and 12 year olds to see it." – Jim Braude, anchor for NewsNight (NECN)
"a must see" – Sports Illustrated for Women
"inspirational" – TV Guide
"When Mary Mazzio decided to make a career shift from corporate lawyer to independent filmmaker, her goal was to produce movies about remarkable women… Certainly her first film, 'A Hero for Daisy'… amply meets that objective." – Ken Gewertz, Harvard University Gazette
"The demonstration [of the Yale women] took on a whole new life in 1999, when the documentary "A Hero For Daisy" came out. Made by Olympic rower Mary Mazzio, it's a delightful film — dedicated to her young daughter, Daisy — that chronicles the Yale demonstration and celebrates Ernst. (The film contains stirring footage of Ernst and C.B. Sands winning the 1986 world championship in lightweight doubles; their coach was Anne Warner.) Among the people interviewed for the documentary was Senator (and 1966 Yale graduate) John Kerry, who at one point calls Ernst the Rosa Parks of Title IX." – Steve Wulf, ESPN The Magazine
"'A Hero for Daisy' tells the story of co-education in Yale Athletics" – Phoebe Liu, Yale Daily News
"dynamic…inspiring and engaging. Mazzio's brilliant direction counterpoints principle with humor, preserving honesty and sensitivity to all participants in this struggle…" – DVD-Reviewers.com
"a must see" – Sports Illustrated for Women, CNNSI
"Don't be fooled by the title. A Hero for Daisy is not your garden-variety, smarmy, after school special. Mary Mazzio and the Last Crusade would be an apt subtitle for a film whose point of departure is Title IX. Daisy is a fast-paced and fast cut film without the crutch of official narration, but with a bulging vein of humor…" – Joe Snapper, The Advance
"[In 2006], I was cheering from the bleachers this week when the U.S. Supreme Court ruled that the federal law banning sex discrimination in schools and colleges also protects whistleblowers from retaliation. The court's decision, with both women justices voting in the majority and Justice Sandra Day O'Connor writing the majority opinion, allows gym teacher Roderick Jackson to take his case over losing his job back to U.S. District Court. Before Title IX and other key anti-discrimination laws, the paramount of which is the 1964 Civil Rights Act, girls and women did not have standing and, therefore, could simply be denied opportunity at the whim of an employer or coach or any other gatekeeper with the power of privilege. If you need context for the world of women before, look up the biographies of Justices O'Connor and Ruth Bader Ginsburg or see Mary Mazzio's documentary, "A Hero for Daisy." – Glenda Holste, St. Paul Pioneer Press
"Mazzio never does anything halfway. Passionate, visionary, and bent on social change…" – Helen Graves, Boston Herald Women's Business "Mary Mazzio and her rowing partner were pulling on all their reserves when they approached a bridge during the Head of the Charles regatta in Boston last October. They were stunned and energized to hear a chorus of voices cheering encouragement from the bridge overhead. It was the girls of Toledo's St. Ursula Academy, in Boston for a rowing competition and shouting for a rower they hadn't met but from whom they had gleaned inspiration. For two years in a row, they had won the Chris Ernst/Hero for Daisy cup for being the fastest eight-woman boat at the Head of the Cuyahoga regatta in Cleveland…" – Tahree Lane, The Toledo Blade
"moving" – Wall Street Journal editor, Karen Blumenthal (recommending A Hero for Daisy in her new book Let Me Play – The Story of Title IX)
Featured on NPR's The Connection
ESPN and OXYGEN had extensive coverage of the film. Also, PURE OXYGEN featured an Olympic Special in 2000 interviewing Mazzio, along with basketball great, Rebecca Lobo.
"a tour de force…the 1976 Yale women's crew sent a wake-up call to educational sports programs nationwide… "Daisy" is today's periodic awakening we need to realize that ultimately, maybe men and women are equally credible, both on and off the playing field…" – Erika Snoberger, USOlympicTeam.com
"Gender is everything…[in] A Hero for Daisy, Mary Mazzio's rousing, inspiring documentary… This film's deserving superhero is a Yale crew legend, Chris Ernst, a live wire of willfulness, audacity, and non-conformity…" – Gerald Peary, The Boston Phoenix (three star review)
OXYGEN has "A Hero for Daisy" on its list of top movie picks, along with National Velvet, A League of Their Own, and Love and Basketball.
"a compelling success" – Mark Heller, The Minnesota Daily
"Mary C. Mazzio's "A Hero for Daisy" is such a rush that it should probably have a warning label. It profiles Olympic rower Chris Ernst, who masterminded the 1976 Yale women's crew protest against the shockingly substandard conditions in which they had to function in comparison with the men's crew. Ernst, who went on to become a plumber, is a feisty and fascinating character. But what really propels the film is the way it intersperses, among the talking head interviewees who trace the evolution of women's athletics since Title IX, shots of Ernst and many other women and girls in action, rowing, running, lifting weights, etc. This is a movie that never stops moving." – Betsy Sherman, The Boston Globe
"A Hero for Daisy" does what the best documentaries do: it allows us to enter into a unique and fascinating world. We feel privileged to hear the inside story, and once having heard it, feel elevated. The crowd at the Copley Plaza loved it. It deserves to be seen because it is beautiful and because it is true. .." – Andy Anderson, Dr. Rowing, Independent Rowing News
"A Hero for Daisy makes the case for equity as well as any documentary I have seen. I recommend families go see this film. It would be particularly good for mothers to see it with their daughters…" – John Douglas, Grand Rapids Press
"the feeling that one comes away with after watching "A Hero for Daisy" is one of pure empowerment. Even the soundtrack, guitar-driven rock (no Lilith Fair warbling here), underscores this…" – Julie Wolf, newenglandfilm.com (four star review)
"The very first email to arrive after I published an innocuous list of rowing movies I happen to have enjoyed bore the subject line: "Shame on You!" Reader Ginny Cummings assumed that sexism and ignorance were responsible for the omission of A Hero for Daisy from my list. Actually, I thought the movie had already received plenty of publicity. Director Mary Mazzio graciously refrained from complaining, sending me a copy of the film which of course I enjoyed." – Alex Beam, The Boston Globe
Featured on Stephanie Simon's report on NPR affiliate's program, "She Got Game."
"This is a movie I want all my students and their parents to see" – Kelly Osuna, Cobre High School Teacher, as quoted in the Silver City Daily Press (New Mexico)
"…one of the biggest hits there [Boston Museum of Fine Arts] in recent months" – Daniel Kimmel 
"The hand-painted sign at the entrance to the boathouse at the Colby College Hume Center is a reminder of how hard the task at hand is… "Dream a little, sweat a lot." – Travis Lazarczyk, Portland Press Herald
"Webster's [dictionary definition of ] Hero: he-ro (hir'o) n. a man of great courage, nobility, etc. or one admired for his exploits. Daisy's hero: he-ro (hir'o) n. a 5'5″ lightweight female world champion rower turned plumber." – Karen Mittelstadt, USRowing Magazine
"A Hero for Daisy.. presented at a kinetic MTV-music video pace. The story of this unlikely heroine inspires viewers to think positively about strong women…" – Emily Harrison Weir, Mount Holyoke Quarterly
"How many of us have sought appropriate material to celebrate the power of "ordinary" determined women to make a serious difference in the lives of others? A Hero for Daisy does this on two levels. The film itself has as its hero, Chris Ernst… who galvanized Yale (and by so doing led other, previously all male, ivy league institutions) into finally doing something about providing adequate facilities for women. The second level of heroism is provided by the successful quest of Mary Mazzio… making this film to provide a challenging and appropriate message for her daughter, Daisy. Christ Ernst was one wonderful role model; Mary Mazzio, the life-long learner, multi-skilling herself and following through to make such a powerful film was surely another…" –Barbara Stone, Principal, MLC School, Australia, The Alliance
"****" – Calvin College (four stars = great)
"This story focuses on these women's inability to accept defeat… they had the motivation to fight…" – Katie Eichhorn, Bryn Mawr College paper
Other press coverage includes: an hour special on NECN (New England Cable News) covering the film and Title IX, coverage on ESPN, Pure Oxygen, news stories on NECN, Fox News, Channels 4 and 7, a story on Channel 5's "Chronicle," television coverage on the ABC and NBC affiliates in Chattanooga, TN, and radio coverage on NPR, WBUR, NPR's "Here and Now"; NPR's "She Got Game;" WEEI, and Minneapolis's CBS affiliate.
ADDITIONAL INFORMATION
WATCH THE FILM
Aired On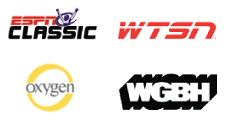 Underwritten By

Keep Connected