Viewer Reviews
"My wife and I loved your film…brava!" – Richard C. Levin, President of Yale University
"Here's the kind of impact that Mary and her film had at Trinity…the very next day, one member of our audience sent us a check for$30,000 for a new boat for the women's program…" – Robbin Shepard, Senior Women's Athletic Director – Trinity College (at the 2006 NESCAC Symposium)
"Loved, loved, loved the film" – EMME, host of E! Fashion Emergency
"I was in a cab on the way to the airport to fly to Toledo to see A Hero for Daisy at St. Ursula's – and the cab driver told me that he had been trying to get the film for his daughter, but couldn't find it at Blockbuster." – Kate Broderick, St. Ursula's Academy alumnae
"I was a member of the boat team who won the Hero for Daisy trophey at the Head of the Cuyahoga in 2006…Thank you for the hats. Everytime I wear it I think of your daughter and I know that there really are heros out there. I can definitely say that you are one of my heros." – Amber Holmes, University of Toledo
"We all LOVED it! Great use of humor, compelling story, perfect length, great shots of rowing and gritty play." – Stacey Vollman, Sports Illustrated for Women
"A Hero for Daisy was a smash hit here at Miss Porter's School…you have done this school and innumerable girls a great service. You have also done yourself, your daughter, your mother and all within your radius proud." – M. Burch Tracy Ford, Head of School
"I was at a cocktail party and your film came up. Did you know that a friend of ours was so moved after seeing the moving that she named her baby Daisy?" – Bob Glowacki
"Awesome… inspiring… this film is so important…" – Carol Gilligan, author of In A Different Voice
"Hello 50 Eggs… I am the head Novice Women's coach for the Lincoln Park Juniors Rowing team. One of the more pivotal moments in our season was when I organized a team movie night and decided to show the girls "A Hero For Daisy". Your landmark portrayal of the now famous "Title IX Crew" had a significant effect on me, my girls, and the rest of our season. We won the Midwest Championship races in all three of the events we entered…we broke the course record in all three events … It was by far the greatest day of our athletic lives. For me…the single greatest day I've ever had. We have your film, and the women you showcased, to thank. So from the bottom of our hearts, THANK YOU for helping my girls believe that they were stronger than the stereotypes, stronger than the doubts, and stronger than they ever imagined possible." – Austin Work, Lincoln Park Junior Rowing Team, Chicago IL
"Your film inspired us [Connecticut College Rowing Team] to take a stand against the unfair treatment of our team by the college administration… I cannot thank you enough for making a film as empowering as "A Hero for Daisy." The story of Chris Ernst and your portrayal of it inspired 45 women to stand up for what we believe in. At dinner tonight, the captain of my team belted out "Hey, we're heroes for Daisy!" – Julia Greenleaf, Connecticut College
"Mary Mazzio arrived in Grand Rapids in a windstorm, touched our minds and hearts, and left behind hope for change. Our organization has worked for over 6 years to battle the inequities in our daughters' athletic programs. But now hundreds and hundreds of girls have seen "Hero"… we are all inspired to pick up those oars and keep rowing." – Connie Engel, Communities for Equity, Grand Rapids, MI.
"On Martin Luther King Jr. day, Americans celebrate the spirit that Dr. King used to help guide American people towards equality. Chris Ernst also embodied King's spirit of hard work, determination, and non-violence. She helped organize the female rowers at Yale to stand up against gender discrimination and fight for their rights. Her actions set an example for women all over the country. Martin Luther King had a dream: that one day, all people would be equal. Chris Ernst also had a dream of equality that required hard work and a determined spirit…" – Mary Lauran Hall, 10th Grade (excerpted from an award-winning essay in 2005 about contemporary people who embody Martin Luther King's spirit, which earned an honorable mention from Newton North High School.)
"THANK YOU for a raucous, inspired evening. It was great fun… and the rest of us reveled in the strength and accomplishments of those present… a great success…" – Dottie Engler, Harvard University
"after watching the film, i've been attacking my work (and my workouts) with a new kind of vigor…whenever i see a really well made documentary, i'm always struck by the parallels between that form and journalism — finding the right 'characters,' relying on them to be articulate and engaging, the importance of creating a 'story.'…every element was in place…but even more astonishing is that you brought to light such a significant story that so few of us who care about issue of justice/equality/women had never known about… – Marci Alboher, Journalist/Author/Writing Coach. Alboher, a frequent writer for The New York Times, is currently at work on a new book on dual careers to be published by Warner Books in 2007
"great movie…" – Alex Beam, Columnist for The Boston Globe
"THE MOVIE WAS MASTERFUL AND INSPIRING! On behalf of my daughter, my future granddaughters, and women everywhere, I thank you for making it. And I thank the 19 women – Chris Ernst, Anne Warner, and all the others – who were involved in the actual incident. These are some truly incredible women…" – Daniel Paul
"I left there [Babson College] with a whole new look on my life and self as a woman athlete. I don't know how I could ever let you know how much that night meant to me… Thank you Thank you Thank you… You truly are a hero for me… I never expected anything like it…" – Allie Libby, Needham High School
"your film was one of the greatest i have ever seen. thank you for the work you are doing, its quite phenomenal…" – Claire Nollman, high school student, Shackleton Schools
"I teach a social studies course… this is the second year that I have used A HERO FOR DAISY as part of the curriculum, and it is such an asset to my class… it is a perfect example of someone who was not a bystander… I just thought I would let you know one way your film is being used and how one teacher is grateful!" – Sarah Martin, 8th grade social studies teacher – Dana Hall
"I had the opportunity to attend "Daisy" with two of my three daughters. I thought the film was wonderful for the lessons that I hope they one day will learn (they are 12 and 10) but also a reminder of how far we have come but also how much further we need to go. As we spoke on the way back to the car, it dawned on me that it was almost impossible for the girls to understand a world without access to girls sports, facilities, etc, so we talked about other ways the lessons of the movie could be used to address other challenges facing them. Thanks for the creating the opportunity to begin this conversation…" -Jeff Levitan, coach and father of 3 daughters
"Mary, the film is TERRIFIC!!!! I'm so pleased and excited to show it here on campus. I think it is so inspiring, particularly because it gives a great example of how to make change. I think Chris is going to become a hero for whole new generation of young women…" – Brenda Meese, Assistant Athletic Director, College of Wooster
"I saw the film on Saturday at the MFA … It was wonderful, moving…so refreshing to hear these things spoken honestly… your portrayal of Chris was sharp and consistent. There was a nice balance between when my tears were welling and I was laughing out loud. There was an older gentleman at the screening who kept talking back at the screen seeming to encourage you. He raised his arms up in a Nixonian sort of triumph on more than one occasion! Funny." – Julie Marren
"You and your film both were fabulous! Your dynamic spontaneity as a speaker was enormously appreciated…the film is just spectacular! It is visually exciting as you portray the personality of Chris and the many people who laud her, the hallowed Harkness tower and the campus view at Yale, and the wonderful rhythms of the rowers. Your photographs of the water – the sunshine glinting on the water, the droplets hanging off the oars – is so sparking and beautiful…thank you so much for coming to talk to us in tandem with your amazing film. You and the film – inspiring!" – Elizabeth Dodson Gray, Theological Opportunities Program, Harvard Divinity School
"I recently saw your movie and I thought it was wonderful. I particularly enjoyed how you were able to show the victories and success of the story without creating a 'bad guy'… It is a testament to the greatness of the story… I also appreciated it on a personal level as I have a younger sister…" – Sam Batchelor, Captain, Yale Heavyweight Men's Crew
"Where can our girls find heroes? To whom can they turn for guides and healthy role models?… One Boston filmmaker asker herself these questions when she gave birth to her daughter, Daisy. Mary Mazzio came to the School to present and discuss A Hero for Daisy. Mary received a standing ovation from her Winsor audience. One Winsor rower exclaimed that the film was "the most unbelievable thing I have ever seen. It showed many strong women, contradicting the modern societal image of women and thin and beautiful." Another student commented that "Winsor already encourages us to stand up for ourselves, but this film shows that if you do it, you can get even farther." … This spring, a new girl entered my life… Hailey Peter…my first grandchild. Like Mary Mazzio, we now have a new reason to worry about the troubling images of girls and women pictured in popular culture. Still we know that thoughtful people everywhere are inspiring girls to see themselves as strong and capable, and we believe there will be many heroes for both Daisy and Hailey, whether it's the likes of Chris Ernst… Rosa Parks… or perhaps even Miss Winsor herself." – Carolyn McClintock Peter, Head of School, in a speech to the Winsor School Board of Directors
"truly inspiring… one of the highlights of the 2000 NACWAA [National Association of Collegiate Women Athletic Directors] Fall Forum." – Bridget Belgiovine, Assistant Chief of Staff – NCAA
"Because of these truly heroic women, young girls and women everywhere are better able to reach their goals and strive for excellence in sports today. "A Hero for Daisy" is more than a story about the rise of Title IX, it is an inspiration and a film that will make every woman athlete want to push herself to her limits and beyond." – Kelly Harris, Captain, Women's Crew, UNH
"I attended "A Hero for Daisy" last night … I wanted to let you know that I thought the film was great and truly captured Chris. I was one of the nineteen women who participated in the protest at Yale and found your method of recounting "the incident" fascinating. Great job! Thanks again for a great film experience that brought back some wonderful memories." – Joan Brown Hoelzel
"I want to thank you for an extraordinary morning…it is vitally important for our boys to understand the obstacles that girls and women have faced in our society… to make sure our boys do learn those important lessons. They can read about them in history books, but more importantly, they need to learn to live them. That comes, importantly, in daily work with the terrific women on this faculty… this education also comes from meeting, listening to, and working with dynamic women. You are all of that. It was a treat for me personally to meet you, speak with you, watch you work. You bring energy, dynamism, enjoyable irreverence, and also powerful messages… a great event for the school." – Richard I. Melvoin, Head of School, Belmont Hill School
"Dear Chris,
I think you are the best. In "A Hero for Daisy" you certainly were a hero and you still are at least for me. It's funny that first you were voting (well, sort of) for showers and now you are fixing them. You have brilliant ideas, Chris, and you are a complete genius. Please write if you have time. Love, Sophie Grossman. P.S. Now, whenever I see rowers, I think of you." – Sophie Grossman, filmgoer, age 9
"After seeing the film, I left that auditorium with tears of gratitude and a lump in my throat. Thank you for getting the message across for many of us Title IX athletes who had our lives touched by someone like Chris Ernst." – Laura Gaito
"It was a special moment watching [your film] with my daughter. It brought tears to my eyes." – Jim Laughlin, Director of Communications, Life is Good
"Thank you for speaking in my US History class and for giving so much to our Emma Willard community during your visit. I was moved, encouraged, and challenged by the incredible film that you've crafted. I remembered, in the course of discussing the film with some of my students, that my high school basketball coach resigned his coaching position in 1974 to devote his full energies to fighting the implementation of Title IX in my public high school…" – Robert Naeher, Teacher, The Emma Willard School
"We went as a family and we all were truly inspired. It was particularly important for my daughter… like all my children, she is so tall, she is completely out of scale with her peers. She does not always get an opportunity to see that this is ok, despite what we tell her. Hats off for a wonderful job." – Alex Thomson, father of a 9 year old girl
"Your movie was very interesting. She [Chris Ernst] is a confident, inspiring woman. I hope that I will be brave like her when I need to be… – Michele Davis, age 12
"We're seeing a documentary about the Susan B. Anthony struggle for the women's right to vote – and the admin. at NCS thinks that as a women's school, this is so important" – and I was thinking "what a snooze compared to "daisy." – Julie Gluck, National Cathedral School junior
"Run, don't walk… see it" – posted on rec.sport.rowing board
"Thank you for giving those of us who are going through the pain of a sport, the pain of adjusting to college life, and sometimes the pain of being a woman, a person who did exactly what she set out to do. It really gives me the feeling that I can do anything…. Right after the movie ended – all of my teammates looked around at each other and we had these huge smiles on our faces. "So, who wants to go lift? one of my teammates said. It was perfect…. Thank you for making me believe that no matter how hard it gets, there's a way of getting to what I want." – Susan Evans, Boston College Novice Rowing Team
"Thank you for coming to Andover with your amazing film…The experience was inspirational to rowers and non-rowers, men and women alike. Seeing such determination and perseverance embodied in one woman, and hearing you speak of Chris's and your own experiences was truly something that none of us will forget…" – Phillips Andover Girls' Crew
"I am a coach and teacher at Acton-Boxborough Regional High School. I recently saw "A Hero for Daisy" and was blown away… [I] did not anticipate how much I would relate to the film, nor how much it would move and inspire me…" – Cricket McCaffrey-Clark
"I am in 8th grade and I wanted to tell you that I thought the film was an excellent film. It enspired many of my friends but especially me. I am honored that I got to see you speak in front of our school and I thank you very much. I hope that it will keep enspiring women and girls all over the world…" – Lauren Blevins, 8th Grade – Girls Preparatory School of Chattanooga
"Just a note of thanks and congratulations for your great work on making this film. I have seen it twice, once at the USRowing Convention and once when it was shown to about 300 women from Iowa, Texas, Kansas Sate, and Tulsa Univ. Since all of these women are recipients of Title IX legislation and the opportunities it is providing, it was most enjoyable to see the looks of awareness and appreciation on their faces afterward. Everyone should somehow, somewhere in their lives, give thanks and credit to the heroes who made and walked the path you are walking. Thank you for making a lasting difference." – Jenny Hale, Head Coach of Kansas State University Women's Crew
"Outstanding" – Roy Condon, Athletic Director, North Reading High School
"Hey Mary, I saw the film at the Berkeley High School fundraiser. It was awesome. [Have you heard about] the story of how the show was sold out through advance sales, and I went down to try and get a ticket anyway? Well as a last resort I pulled out my Cal/Stanford men's hoops tickets for later that afternoon–a game which has been sold out since last fall–figuring it would be an easy scalp, and no takers! So I guess you could see that "Hero…" is in demand. Great job…" – an unidentified Cal/Stanford hoops ticket scalper
"I am still hearing comments about "A Hero for Daisy." It was awesome…" – Patti Suppe, California Association for Health, Physical Education, Recreation and Dance
"Thank you for your wonderful, inspiring, and powerful movie!!" – The Doherty Middle School Girls Club
"The film was absolutely wonderful…such a marvelous story. We [my husband and I] were both affected emotionally for a number of reasons… it is so apparent that in the US, as women, we have been so lucky to be able to do what we can do… I don't think I could ever have done in Canada what I have done here. Thanks to people like Chris Ernst, Title IX, and the general spirit of "can do" in this nation… Your work is fantastic" – Cheryl Vince Whitman, Educational Development Corporation
"absolutely fabulous" – UMass Dartmouth Blog
"Organizations can use this story to inspire and empower individuals or groups to speak out, exercise influence, and affect change…The widespread change that these women created at Yale University is a compelling reminder that, regardless of authority, every person is capable of great accomplishments using the power of leadership." – The Management and Leadership Network – United Kingdom.
"Best Movies of the Year by Fief" – Right Turn Clyde
"Title IX created many opportunities for women in the United States; however, the protests at Yale University served as not only a symbolic event for women, but also as a catalyst for the movement towards total equality women's programs throughout the country…" – Abby Snyder, 10th grade history paper, Nobles and Greenough School (2005)
" I loved your film. I have a question. How long did it take for you to make the move? – love Anne Campeau" – 8th Grade, Girls Preparatory School (Chattanooga)
"My name is Emily Clark. I am a junior at St. Andrew's Episcopal School in Potomac, MD. I really admire Chris Ernst as a woman athlete myself… That you for opening my eyes to what wonderful women they were…" – Emily Clark – 11th grade
"Thanks so much for coming to GVSU today. I took the day off to bring my 3 teenage daughters and a friend and you have truly energized me. I cried during the film presentation–I was transported right back to my high school days in the early 70s. It seems like my daughters are still fighting for the same rights that I pushed so hard to have. Their high school still [has] such a long way to go but I am ready to continue to push for equality right by their sides. Chris is such an inspiration and so are you." – Mary Cotter, Grand Valley State University
"I just want to personally thank you for a GREAT presentation. I and the others here at the Tucker Center think this was the best one yet… Every person I talked to had comments and questions. No one said "Oh, it was good" and left it at that. So I think you inspired a lot of people…" – Jonathan Sweet, Tucker Center, University of Minnesota
"I want to thank you for making A Hero for Daisy. I watched it for the second time today when I showed it in my Intro to Women's Studies Class – – it is such a fabulous piece of work, and so perfect on so many levels. I love it for the message it sends about women being able to be strong, and I love it for its lesson on how to organize and bring about social change." – Dr. Valerie Barr, Professor, Hofstra University
Thanks so very much for coming to Schlesinger last night… your discussion inspired me more than you can imagine… and your words last night resonated with me deeply. I wanted to thank you especially for sharing what Chris said to you about needing to believe in yourself and stop making excuses… I know I can do it too. So thank you so much for sharing your story and for signing the poster. I will look at it every time I feel like giving up…" – Marilyn Morgan, PhD Candidate – Harvard University
"I am a student from Bates College that received the opportunity to attend the NESCAC Coaching Symposium… your talk and documentary, specifically, were inspiring. it was by far the highlight of my trip as well as the most motivating… it opened my eyes to the progress women have made in order to create equality between men's and women's athletics…" – Hallie Preston, Bates College
"My friends Allie Emrich, Lauren Lewis and I are tenth graders at Shaker Heights High School, located just outside of Cleveland. This year we are participating in National History Day, a nation wide history competition…After days of research we came across the amazing story of Chris Ernst. Her story of fighting for women's rights sent chills down our spines and made us immediately decide on her struggle as our topic. We loved A Hero for Daisy!! – Hannah Lawrence, 10th grader
"Thanks for caring enough to tell the story and being concerned about having a hero for your daughter – and all of our sons and daughters. That is exactly why I first started teaching women's history as a former elementary school teacher because there are so many male role models in our history books and not many females ones…" – Pat Hunter-Williams, Kaua'i Commission on Women – Hawaii
"With films like this… I am confident that Daisy will have female heroes as well as many little girls for a long time to come…" – Elizabeth Ghilardi, Colby Lacrosse
"Hey – did you know that there is a team from Colby College who all have gold rings inscribed with the film's motto – "dream a little, sweat a lot?" – E. Hamilton
"Daddy… why couldn't the girls have showered with the boys?" – Isabella Tangherlini, age 5, to her dad
ADDITIONAL INFORMATION
WATCH THE FILM
Aired On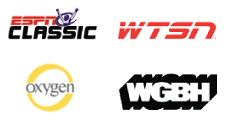 Underwritten By

Keep Connected